IMAGES
---
You can use most of my images for your own use unless I say so. if you see this
by an image, please respect it. otherwise feel free to use images here but remember to link me. thank you.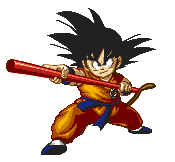 Black 'n white - You'll find mostly manga images here.
Color junkies - Full color images either screencaps and scanned.
Gif mania - Animated gifs for all gif. cravers out there.
ATTENTION ALL FANART LOVERS! Here's your chance to show off your art works dedicated one and only DBZ! I'm going to make a fan art section and I need your help with them. NO HENTAI PLEASE. Other than that, the image must be:
JPG Format

Less than 300kb

Attached to your e-mail (no links please)

No compressed files please (No ZIP files)

Images must be clear for us to see (Scanned hand drawing or drawn on the computer are preferred)

Submitted with your name (or nick if preferred) and tell me if you want your e-mail posted as well or not

Title

Nothing over PG-13 (Come on... you know what I mean)
I'll be waiting! Try to be original. Please send it to here. Thank you!
---